Ever notice that when you buy a bouquet of flowers, it's a blend of many different colors and  textures? The juxtaposition of unusual elements can fit dynamically well together with very little effort. What's important is following your heart.
I could never quite understand the "color control" exercised by the denizens of Home Décor and Fashion. Colors are personal, and warrant examination first of all, by virtue of who you are, what you like and what you want in your personal space. My advice is to work with what you respond to instinctually. Experience tells me that many people are afraid of color. What's the easiest solution for that? Beige, pastel, neutrals and white have been huge the past few years. Ever heard that? I have. Color is generally reserved for the walls or pillows on a couch- where  "pops" of color are guiltily allowed. Enough already.
Learn from history, discover new and old as you shop.
I love wandering through stores of all kinds and period. Besides, you find craftsmanship you can't believe. Why buy new when you can buy better? When we found our gate, I knew it would complement the antique English gates we'd installed this spring. Remember the Brimfield MA show coming again on September 5.  Maybe you'll find something you can breathe new life into.
Look to nature.
Color in the garden can be both intense and calming. Neutral and inspiring. The impressionist artists returned to nature for inspiration in their work. Watch this video . What colors speak to you? Where do you find calm or happiness?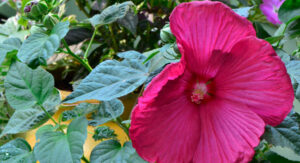 Follow your heart. Only work with home decor professionals who listen to your own feelings about how you live in your space.
Look around. Learn from what others have done.
I saw this article on one of Julia Child's homes currently being restored in Washington DC. It offers its new owner an opportunity to bring it forward by remembering the life of its flamboyant chef. History offers great opportunities for discovering fascinating elements re-purposed for a new lease in your life.
I visited my sister this week in a nursing home. She has Alzheimer's. She was a devotee of the guitar and specifically this man, Julian Bream. (Vivaldi was a household name and he was a favorite of both my parents). Bream was a British guitar and lute virtuoso. He used to say that as a child he would lie under the piano in "ecstasy" when his father – (who was a jazz musician) played. At age 12, his father gave him a small Spanish guitar to augment his earlier mastery of the piano. Love of music goes far. This is Julian Bream In honor of my big sister- Vivaldi's Concerto in D
Then again, if classical isn't your thing, there's always another of my personal faves. Stevie Ray Vaughn-the Voodoo Child!
Paola Pillows will bring color into your life. Which colors are yours? See our current line here.
                                                      Peachy and Palma
Save
Save
Save
Save
Save
Save
Save
Save
Save
Save
Save
Save
Save
Save
Save
Save
Save
Save
Save
Save
Save
Save
Save
Save
Save
Save
Save
Save
Save
Save
Save
Save
Save
Save