And there's a whole lotta sewing going on..This is a new Paola Prints chiffon scarf called Endless Summer. Morning glories and sunflowers.
This Saturday, Paola Prints will be showing beautiful pillows and scarves- including a collection of new 100% cotton infinity scarves at the Central CT Community Women's Club 45th Annual Holiday Craft Fair in Cromwell CT. This is a one-day, juried craft show from 9:00-3:00 pm and will be chock full of exciting handmade gifts. See you at the Cromwell Middle School. This is a juried show so you know we're a bunch of very special artists…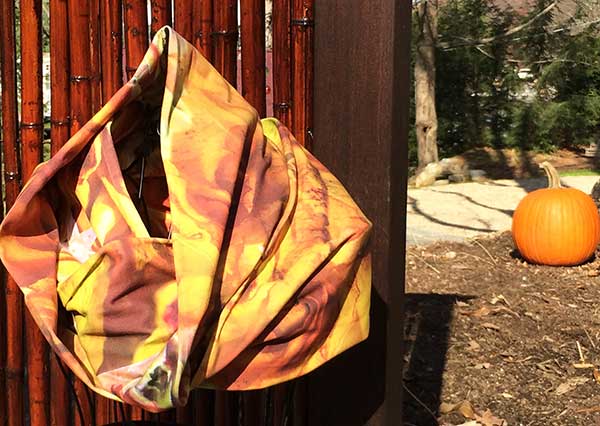 Paola Prints will be at two additional holiday fairs– In Litchfield, Thursday, November 14th from 5:00pm-7:30 pm at Brandywine Senior Living- a benefit for the Pancreatic Cancer Action Network, followed by a holiday event- The Bristol Historical Society Holiday Craft Fair, Saturday, December 7th, from 10:00 am-4:00 pm in Bristol CT at its historic venue.
A word to the wise: This year, the last order day for new, made-to-order scarves will be Saturday, November 16th! We'll diminish our existing inventory through the fairs, so don't be left behind! If you have a special design you're looking for that special someone, help me get it made for you on time. Start of next week, I'll post artwork for scarves currently in stock. Pricing is as follows. Chiffon scarves are $48.00 plus $8.00 insured two-day shipping. Cotton scarves are $52.00 plus $8.00 shipping. Tax added only if you're in CT. Got questions? Call, text, or email me.