Larry and I completed our annual pilgrimage to ICFF ( the international furniture fair) and SURTEX (surface design show) at Javitts, NYC on Monday. It's easy to get overwhelmed if you haven't been before and continues to overwhelm yearly if you don't take a reasonable lunch break. Which we've learned to do. I was reminded of  the sometime, mind -numbing museum trips as a child to every museum in the Washington, DC area. Thank God for the diversion offered by American Indian displays and dinosaurs at the old Smithsonian.
There's so much to see at the shows, from business transactions with existing clients and prospecting for new ones.  Art school student projects and new businesses  seeking investors. The categories run the gamut from floor coverings to outdoor to lighting and plumbing innovation. One such business was a fab Polish company whose gorgeous hardwood, handwork and even a secret finish formula worth killing for.  The hand feel of the wood was unbelievable. Can you imagine sliding into a hot tub without the cold hard feel of porcelain under you? Unique Wood.
I focused early, on photos of room dividers and lighting which were abundant. It was interesting how many different ways you can achieve a "private space." Some focused on dividers joined to the back of a chair or couch.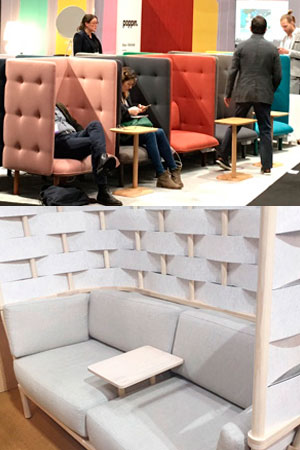 Interesting use for home, or public space like a library or airport where you can literally re-charge privately in the middle of lots of activity,
The divider materials were also innovative. Are you too turned off by traditional room dividers? We have an open floor plan and as much as I like it, creating different areas of interest is still important.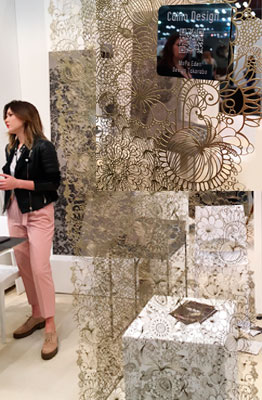 How do you do that? The merest hint of a division might suffice. A visual construct, that's clear, or metallic. Suggestive, yet functional without closing off light or heat. My favorite by far were the Italian metal hangings. Very cool. Check out Caino Designs.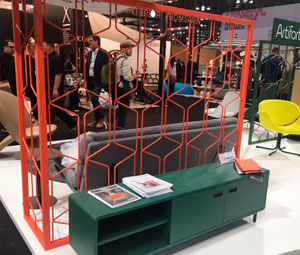 Innovative surface design is always fun to see, and there were wild creations throughout the show.
After a very busy day, we had pizza in Chelsea with a dear friend and walked on the High Line to enjoy spectacular misty quiet in the middle of very tall buildings. And then back to the country. Someone has to do it!
The Lumineers song, Ophelia was published in 2016. They're an American folk rock band based in Denver Colorado. I've displayed them before. They draw a lot from  genres that includes the likes of Bob Dylan and Tom Petty and are one of the top touring bands in the US and around the world. Ophelia has gotten mixed reviews but I appreciate the energy and that romantic sentiment of course, encouraging a person to keep on falling in love. Solid instrumentals and interesting voices.
Paola Pillows allow you to bring the outside in every day of the year.  See them here!
Save
Save
Save
Save
Save
Save
Save
Save
Save
Save
Save
Save
Save
Save
Save
Save
Save
Save
Save
Save
Save
Save
Save
Save
Save
Save
Save
Save
Save
Save
Save
Save
Save
Save
Save
Save
Save
Save
Save
Save
Save
Save
Save
Save
Save
Save
Save
Save
Save
Save
Save
Save
Save
Save