Do you sometimes feel like nothing changes? How many weeks have you been ready for a new season? One thing I do know is we have no control over some things and one of those is the weather. 
Yesterday I went out for the first time this year to start cleaning up pine cones and debris that the road scattered mercilessly through the beds over winter.
I've never pruned boxwoods before. Since I'm only shaping them, I'll wait till they've completed their spring growth spurt. The only thing you really shouldn't do is a big trim end of season when perennials need to harden off before a big frost. Some pruning tips here.
 Need mulch?
I'm getting ready to buy some. I prefer having mulch down when plants flower, it's prettier. It's a lot of work to place five yards, so best to get it in soon…I saw the tulip, daffodil and hyacinth leaves poking through the ground about two inches yesterday. Weeds are close behind.
My pet peeve. I don't like rubber or plastic much – please don't do it! How can you grow living things and cover them with a rubber blanket? It's a mystery to me. Same goes with chemical colored ground cover. Yuck.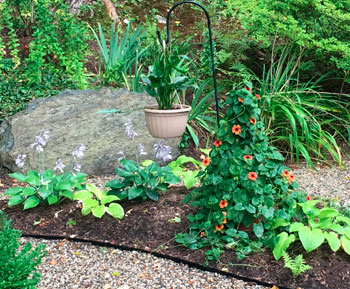 I'll probably buy the same hemlock mulch I bought last year. Here's why. Like cedar, it has a beautiful smell and rich, brown color that lasts. It also helps keep insects away. Since hemlock is fibrous I prefer the double ground variety-you don't want big chunks that never degrade. Here's a mulch calculator if you're uncertain how much you need. I like to allow for three inches or so of mulch. It's suggested you not mulch right up next to your house. Why advertise a wood meal for those pests that eat it? Your house might be next on the menu.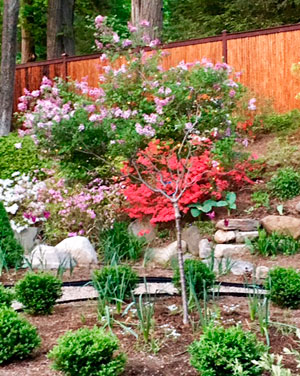 Hemlock mulch is suited to certain kinds of gardens. I mulch mostly around acid loving plants like azaleas, so hemlock and cedar are good. Mulch prevents weed seeds from germinating and water from evaporating. You should keep it about an inch away from stems because heavy wet cover can cause rot if it sits on top of plant stems. Be cautious around slug susceptible plants (like certain hostas) as it may draw slugs in. Some people add a little lime under mulch to neutralize the acid.
If you're growing vegetables, read more here about using grass clippings and leaves– not something I've gotten into yet. I'm getting weaker each year as there IS no substitute for fresh tomatoes and basil. Organic mulching and how-to. Great resource.
This year, I'm going to apply a one-inch layer of leaf compost before the mulch to give the plants a boost. I haven't done it before but I think it's time. More info about that here.
Paola Pillows are made for the home. Comfort in a beautiful (washable) package.
I've never been a huge Cajun music fan but I found Ann Savoy and her sons infectious. Ann is a Virginia born songwriter, film producer and singer. The entire family plays together. Two boys, two girls and their father (who was the Cajun inspiration source). Dad builds traditional accordions-a smaller size for his wife. Ann Savoy and Sons- Black Rat Swing
The Separation Waltz– The Savoy Family Band. (Sorry- recording isn't great)  A traditional Cajun tune- l-r. Wilson, Ann, Marc and Joey Savoy. What's not to like?? The family that plays together stays together.
Sign up for our blog Stay in touch with nature and fabric design ideas for your home. Got questions? Let's talk!
Related Images: