Mardi Gras is a tradition that dates back thousands of years to pagan celebrations of spring and fertility. Christian leaders decided to incorporate many popular pagan traditions in a new way. In this case, the craziness got condensed into "Fat Tuesday," a single day before the period of 40 days of fasting and penance between Ash Wednesday and Easter Sunday. In 1857, a secret society of New Orleans businessmen called the Mistick Krewe of Comus organized a torch-lit procession with marching bands and rolling floats. This set the tone for future public celebrations that continue today in 2019- known as Mardi Gras. "Krewes" are now social organizations that stage parades and balls in the Carnival season of which there are many!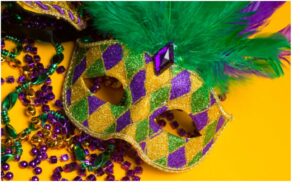 I'm color crazy anytime of year. One of Paola Prints newer scarves is called Mardi Gras, its colors are reminiscent of Mardi Gras colors. Bright, exuberant colors that can however, be worn any day of the year! We now have some scarves in stock- they can be to you within one week.
The terms Carnival and Mardi Gras are used synonymously even though Mardi Gras is actually a name given to the last Tuesday before the season of Lent when you partied down. Lent is the Christian feasting period before the start of Lent on Ash Wednesday. I was raised Catholic and was very aware of Ash Wednesday, not eating meat on Friday and going to church way more then usual. I never remember hearing about a "Fat Tuesday" when you ate all kinds of fatty foods and generally partied. I tried to emphasize this PRE- Lent celebratory aspect in my own family every year. How else to appreciate the "lack" of those things??? More about the history and sights of Mardi Gras here.
The Savoy Family Band playing an in-store concert in El Cerrito, Ca. You know what they say about the family that plays together. FUN! If you're into Cajun and New Orleans style music. Get in the Mardi Gras mood! Here's a link to a couple hours of music. Check it out.