Mother Nature: Litchfield Summer 2023
Mother Nature has always been the inspiration for my creative work. It makes sense that summertime is incredibly labor-intensive- caring for all those growing things that inspire creativity.
Since flowers are the high point of plant life in my garden, one puts lots of time in to get the flowers. Of course, as we learned especially well this year, Mother Nature may have entirely different plans- regardless of what you do or don't do. An early frost here in Connecticut killed the entire hill of azalea flowers, save one bush, a Maine native that blooms late. A hearty thanks to Maine!
The Andromeda bushes on the hill were overcome by Azalea bark scale and white fly, which eliminated both their flowers and new growth. I sprayed an organic product followed by a pesticide until I finally got it under control. Right now, I have new growth incoming. Fingers crossed for a clean bill of health next spring. This season's rain has been a huge boon to pest life. Given the bugs nasty habit of wintering over, I'll be spraying dormant oil at the end of the season, and an additional oil application in early spring. What I learned. Be very cautious about taking advice from Facebook groups unless you've tried to either find an agricultural resource near you or a tested local grower who can advise you from his/her professional expertise. In Connecticut, I've had good luck with these people.
Fair Intervention
Sometimes, the business of selling can be a welcome respite from garden labor. This year, we decided to try our first fair in Lenox, MA. It involved two new aspects of selling- travel out of state for two days and rejiggering Square to reflect the MA sales tax. (ugh) Thankfully, we decided to go because Lenox is a lovely place to visit. Unfortunately, the sales didn't match the effort and it probably won't become an annual event. Still, we caught a needed break. One COULD say the entire trip was worth the fab dinner we had at Cello, a fantastic, tiny bistro serving New American cuisine.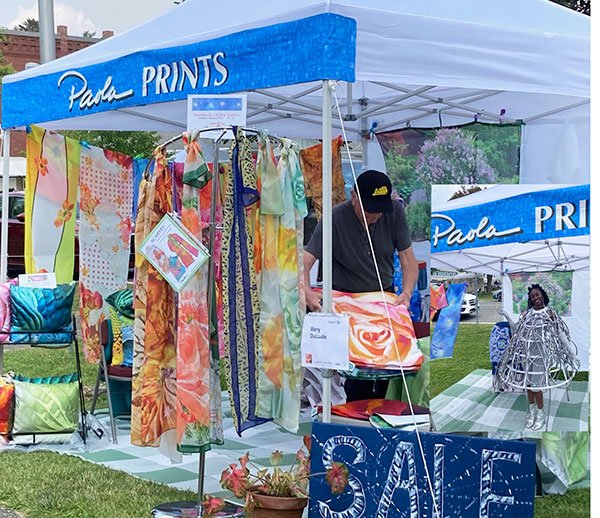 Our next fair is Saturday, August 5, from 10-5 pm. A bit closer, for us and an historic event celebrating its 63rd year-juried crafts, free to all and food vendors too. Stop by and visit! The top photo at the start of this post is called Grand Prix- a new scarf displaying the finishing touch to what started as a momentary breakdown in digital streaming of the Austrian Grand Prix- sadly for Larry. For myself, I delighted in the resulting colors for my own inspiration. Grand Prix will be coming with us to Sharon.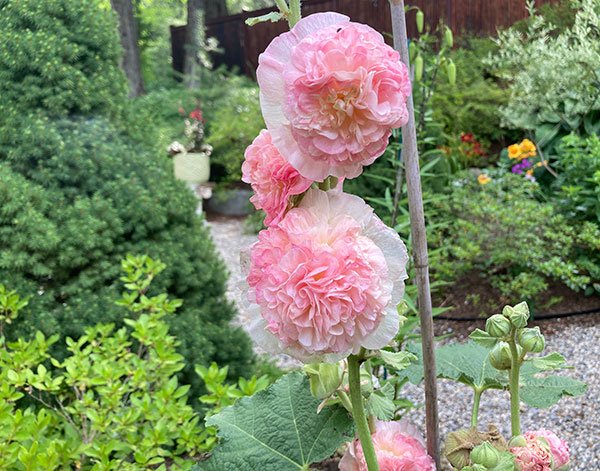 Take the Long Way
Take the Long Way is a great summer song- Why NOT take long way to just about anywhere in summertime? This is from Po'Girl's album Vagabond Lullabies.
Po'Girl was a Canadian music group whose style derives from folk, country and jazz- also called urban roots- "rural music with urban lyrical content and appeal"- you can hear it in the rap segment. The band was named in 2003 by its two principals, Trish Klein of the Be Good Tanyas and Allison Russell from Fear of Drinking. Shortly after their first album they added a third member Diona Davies. You can hear her on the fiddle in this song. Po'Girl's last album was recorded in 2010.