I don't like dirt. I've gardened since childhood and can speak with authority on the subject. I garden because I like flowers and I want them to be successful. It takes time and good care.
But, once they've got their blooms on, I like to photograph them exhaustively, then  bring them inside to fully inhale and enjoy their beauty. This one is called Perfect Rose. It looks right back at you-perfectly.
Gardening aside, I'm really not a big outdoor freak- if I had my way, I'd prolly just be eating dark chocolate and sipping a foaming latte inside on a white couch. Reading Elmore Leonard.
Someone recently asked why I don't use linen for Paola pillow fabric. I chose 100% cotton sateen because it's the perfect fabric. The smooth shiny surface is ideal for showcasing flowers. And remember, I don't like dirt. People have told me that washing decorative pillows isn't important- "people don't do that." I beg to differ. I don't want to lay my head, cheek, or arm on a pillow if I don't know where it's been. Washing makes them smell good too – AND, they get even softer. Besides, how do you feel when you wash a special piece of clothing for the first time? It becomes "yours."  At the end of the day, you know you'll be looking at fresh, flowerful cotton pillows…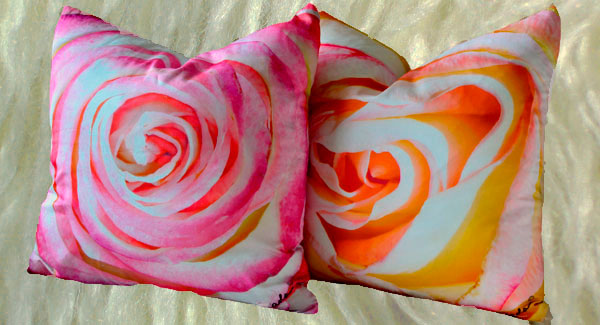 Perfect and Peachy. Together at last.
Ever see a chair or couch and wonder where you could find one like it? I found an app – it's a funky way to start your spring shopping. Take a photo of something you like and it'll offer up photos that look like it-places you can buy it, ideas to keep yours going. It's not 100%, but it will get your creative juices flowing. It's called: Like That Décor, Find it here-free for iPhone; or android.
Speaking of spring and outdoors… these are the ONLY bugs I like. Take your time- this video is visually as well as musically entertaining. And remember, it's the time of your life, so live it well! http://youtu.be/nUv387M7vUU