What do Paola Pillows and Starbucks have in common? They both raise the bar on a product once thought to be a commodity. Not every flower finds itself reproduced on a luxurious 18" pillow. I have a passion for making beautiful things an important part of everyday life. I love taking photos of gorgeous flowers, enhanced through their application to fabric and made available to others. The concept of bringing nature into a home year round is a happy thought in itself.
My process is a little like making cheesecake. I adore making cheesecake to get my hands into its wonderful, extravagant ingredients- thick, heavy and sour cream, fresh key limes, red raspberries, vanilla, whole organic eggs, and butter. Making it is almost as much pleasure as eating it because the textures and white colors are so wonderful to handle. It's not rocket science if you think about it. When you invest in the most special ingredients you can find, the results will be magical.
Like making Paola Pillows. Beautiful images lovingly shot of flowers raised at home and printed creatively on exquisite 100% soft, shiny cotton sateen fabric. (Removable covers of course) Sewn and finished carefully to match exactly at each seam. Filled to perfection with impossibly soft feathers and down in a woven cotton cover- always made in America.
I'm amazed how many decorative pillows out there aren't even close to being wonderful. And equally amazed at how often we predictably try to run down the lowest price possible to fill a spot on a couch.
Here are three things that will help you purchase a delightful decorative pillow that's a keeper:
1. Make sure you're wild about the look of it and can't possibly live without it. Life is short- buy beautiful.
2. Make sure it's incredibly soft to the touch, and made of fabulous natural materials that will spoil you every time you touch them.
3. Make sure it fits with your personal sense of color and design!
Remember. You'll always have some things that don't quite make it. Be bold! Don't allow the misfits to color your way forward.
Here's another look at Paola pillow's red rose pillow in a very different environment. It goes with any décor, any time of year. Why? Because it attracts other beautiful souls like itself. We saw this antique painted iron patio set in York, Maine. It's no different than a Paola pillow- waiting for the right person and the right home.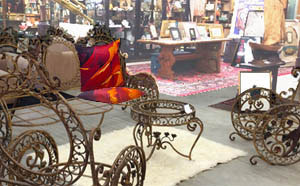 Subscribe here to bring home some of your own beautiful pillows when they're ready to travel. https://paolaprints.com/subscribe/