---
Isn't everybody wild about peonies? That romantic profusion of color, endless ruffles and a divine SCENT that permeates the house. The wet weather jumpstarted my peonies and I barely had time to stake them before they burst open at five feet tall.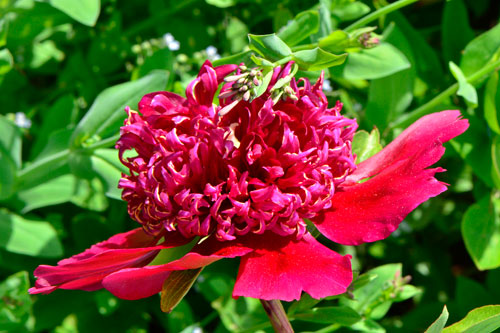 Given the unusual humidity of the past couple weeks, I was reading up on peony care. This caught my eye. "Botrytis blight often rears its ugly head in the garden after late spring freezes or during periods of cool, rainy weather. It can be especially damaging to plants when wet, humid conditions persist over several days." Sounds like Spring this year…Out I went to check.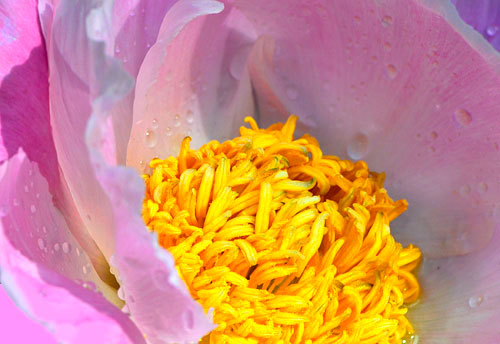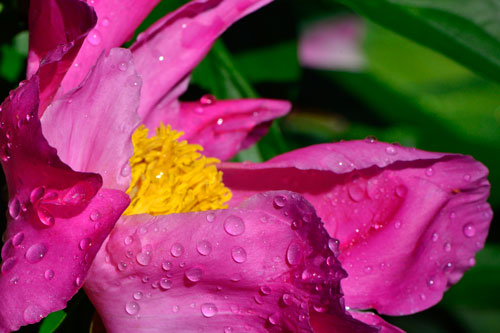 Sure enough, I found some telltale signs- wilted leaves, blackened or atrophied buds. Hopefully, I can contain it to one garden. I did as suggested, carefully cutting and bagging the damaged buds and leaves. In fall –when you cut your peonies back, be sure to rake off all the excess matter. And, be careful what you do with it or you'll winter over the fungus for next year.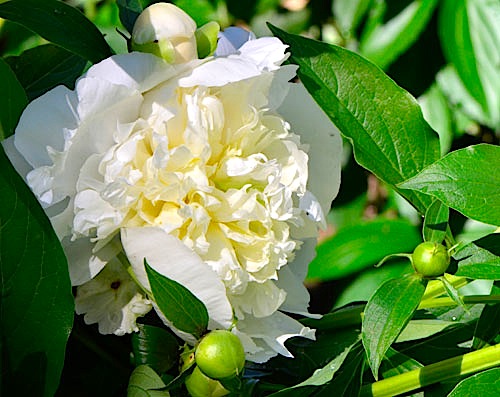 We're starting the side garden at last. The mason is here the week of June 27th which means we have prep work to be ready for him. Some of that is grading ground surface, some  transplanting and moving rocks.
Tree peonies too, will want a home in the new garden. Hmmm. I don't own any yet.
The tree peony is a Chinese native- also called Moutan. It's thought to have been found first in China in the sixth century. It was originally used for medicinal purposes long before it became an ornamental. It's really like a small shrub, different from its herbaceous relative by virtue of a woody stem that doesn't die back at season's end.
The flowers are even more luxurious in size but can be either single or double. They have a uniquely wild, wooly appearance that sets them apart from other peonies. They typically bloom ahead of other kinds and favor rich soil, including iron that supports their "vigor and depth of flower color." I learned more about them at the Bellamy- Ferriday historic Garden in Bethlehem, where they're pampered by organic horticulturalist George McCleary and his wife Carol. I'm headed to Cricket Hill in Thomaston later this week to search out a couple tree peonies of my own. Every garden should have at least one. If given the proper planting conditions and care, they can last decades.
As a Nashville country and bluegrass songwriter, Chris Stapleton wrote for many well known performers, including Darius Rucker, Kenny Chesney and George Strait. Summer brings on bluegrass festivals. Chris delivers a rousing rendition of Midnight Train to Memphis at Grey Fox in 2008 with the Steeldrivers.
Paola Pillows start in the garden. The hostas are up and the Spirea bush ( shown here in bloom with its neighboring hosta) is all budded up. The images are artfully applied to   cotton sateen and now, they're looking for a home!
More about peonies- 
A history of peonies: http://www.centralsquareflorist.com/blog/the-history-of-peonies/
More about tree peonies : http://www.uvm.edu/~pass/perry/trpeony.htm
Some medicinal lore and legends: medicinalherbinfo.org/herbs/Peony.html
Pests: https://viettes.wordpress.com/tag/peony-buds-rotting/