Fourteen designs. All original, indulgent chiffon scarves for gifting those you love. Each one is handmade to order. These are specially priced to sell direct.
The only catch. You must order scarves by November 16 at noon to have them by December 25! Don't delay, I can only sew so fast. Call or email to order. Scarves are payable in advance.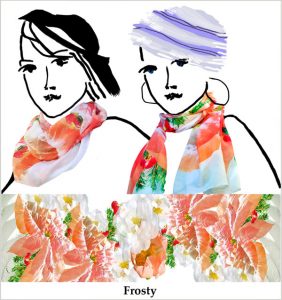 I accept cash or credit. Once I get your email I'll send you to my secure Square site to enter your card information. It saves you money. And the clock is ticking…More details here!
I was so excited yesterday to have the tree men in to prune the trees. My garden has gotten very shady and the plants need their sun almost as much as we do. Our favorite ancient Japanese Maple looks like a spring chicken. Love it!
Our pillows are in stock and ready to travel. I am also selling them direct, you can buy the whole pillow (with a 20" feather/down insert) or buy covers only. Ten designs, what's your pleasure?
Eva Cassidy was an American singer and guitarist who passed in 1996 at the very young age of 33. She was known for her jazz and blues interpretations. Five years after her death, her album Songbird became a platinum hit, #1 on the charts in England. Her voice is memorable. First time in a long time I've felt like buying an album. But wait, you can also stream on Amazon Prime or listen to it on youtube. This is one I love, Wayfaring Stranger. Hope you do too!