An American Beautyberry (sometimes called a French Mulberry) brings great color to a late fall garden. Its shiny purple fruit is a marked contrast to curling dry hosta leaves.  Beautyberry fruit is loved by birds and deer alike. Wait a minute, did I say deer???? Hmm.  The warm weather is pretty much finished here in New England and no kind of flower is left standing.  Planting is finally over for the season and I had the courage to stop buying bulbs this week. The ground is just too hard to cultivate! Besides, it's time to find beauty inside for the holidays.
Making a house beautiful.
Once you've opened up a living space, defining distinct areas can be challenging. I've always been partial to screens but too often they present extremes- either too boring or gaudy. I was thrilled by the simple veneer of "Paisley" screen by Perigold. At $4,000 each, it's just a little pricey. Pretty cool though. Check their site out. Maybe one could make one?
Vietnamese architecture studio Kientruc O featured an exciting makeover to a house in Ho Chi Minh City, Vietnam. The design is a nod to Swiss architect Le Corbusier and the Modulor plan. His Modulor was intended to be a universal system of proportions joining the human form, architecture and beauty. More about that here.
The tropical plants, vaulted spaces and  glazing in grid form present a stylish solution for selectively private spaces that still welcome the light inside.

Beautiful Food. Beautiful Flowers!
There's nothing so beautiful as food that looks and TASTES good.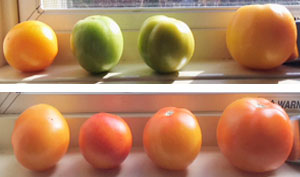 Tomatoes- from seed. I started my plants too late this year and wound up ripening them in the kitchen window. It still worked! There simply isn't anything as wonderful as a home grown tomato.
My daughter Bridget got married this summer. We get together every week or so at the local coffee shop to touch base.
And of course, there's nothing like beautiful harmony. Alison Krauss and Robert Plant –Leaves are Falling.
Related Images: