The word crazy can mean many things besides a pejorative about somebody or something. Crazy wonderful or even crazy beautiful!
Summer is coming to a close in New England and our venerable Japanese maple has taken on a wilder, some might say "crazy" look. Sunlight highlights the stark reality of the effect of cooling temperatures and rain on the landscape. The light seems sharper and less flattering -creating more drama than harmony.
I just met a crazy artist online who's become an inspiration for me. I love this woman. Her name is Yayoi Kusama. She's 88 years old- an avant-garde sculptor, painter and novelist- born in Japan's Nagano Prefecture in 1929.
Yayoi Kusama ran away from home when her family insisted she "just grow up and get married in effect turning her back on her artwork- which had been an essential source of solace from panic attacks and anxiety from childhood. At 28, she left Japan for NYC after establishing contact with Georgia O-Keefe, and spent the requisite hard times working her way through and beyond the NY art and fashion scene in the 60s. Ultimately, she returned to Japan in 1957, where she's now lived voluntarily at a psychiatric hospital in Tokyo for over 40 years.
Yayoi is known for her psychedelic colors and repetitive patterns. She influenced many well-known artists including Andy Warhol and Claas Oldenburg. Yayoi is sometimes called the high priestess of polka dots having created many installations incorporating them. She says, "A polka-dot has the form of the sun, which is a symbol of the energy of the whole world and our living life, and also the form of the moon, which is calm. Round, soft, colorful, senseless and unknowing. Polka-dots become movement … Polka dots are a way to infinity."
Yayoi works all day and many nights in her studio located directly across from the hospital. She's known around the world for her art and interactive exhibitions that people of all ages flock to. She's considered Japan's most prominent contemporary artist. It's easy to understand why when you watch the incredible life story about this crazy determined woman artist. On the one hand, she is inward turning -seeking out a viable way to heal personal distress, which then becomes valuable to others. She sees her way as an artist to be a solitary pursuit first and foremost-before it is given to others. I get that.
This video is almost 30 minutes so save it for when you have the time. Her words in translation are especially poignant near the end. Bloomberg's Brilliant Ideas Episode #53
This video is shorter and an interesting visual of one of her traveling shows called Infinity Mirrors. Her website. Love the home page. Yayoi often wears clothes of her own design against a backdrop of her very patterned artwork.
Musical artist, Amanda Platt and the Honeycutters released a self-titled album June 2017 on Organic Records. Old school country, rock and roll, and her fourth album, the first under her name. She has a charming and personal storytelling style. What do you think? Birthday Song.
Results you can have for yourself – Woodland pillows from Paola Prints are in stock waiting for a good home. Soft down inserts add comfort to beauty for your living room. Bring Autumn inside this year and enjoy the results without a rake in sight.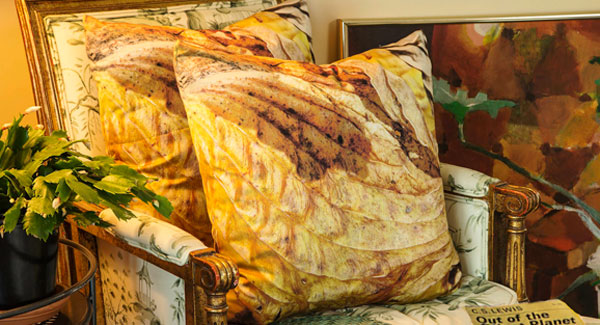 Save
Save
Save
Save
Save
Save
Save
Save
Save
Save
Save
Save
Save
Save
Save
Save