Litchfield, Connecticut flowers are still flirting with Spring. I took this photo in May 2015,  after a hard rain. This year, I lost most of my tulips and the late bloomers are just coming in. The peonies have thrown up shoots and buds, waiting to be staked before their heads fatten and fall over from heavy, sweet flowers. And yes, the Japanese beetles are getting their fill on the last emerging hybrid lily leaves. I find and squash those bugs whenever I can. Pests.
So happy to see the hostas growing taller each day. The azaleas continue to tease-precious few buds, still unwilling to let loose. The iris and day lilies are emerging along with my favorite ground covers, periwinkle and golden carpet. The damp hillside prefers pachysandra and moss if left alone. I choose not to so we just put in a couple new flats of periwinkle. I figure as long as I help the periwinkle hold its own, we may yet win that battle. I'm crazy about that color blue.
Done some weeding on the gravel drive but that's a much bigger job that has to wait until we're ready to gravel the new shade garden at the side of the house. Here's where we are since last I posted.
We finally agreed on the hardscape for the brick patio extension (to the left of the door) And yes, my husband likes it better too- he helped reshape it. I think once you dig into a big project like a whole yard, it can get away from you. Perspective through the eyes of another who's not directly involved in the details is a GREAT idea.
Monday, we drove to NYC for a couple shows at the Javits Center- ICFF and SURTEX. Time to see some great new lifestyle solutions and check out the surface design show (SURTEX). Another opportunity to pick up one's head and look at the world. One day in and out again. Ended with dinner and a couple of my favorite people in NY…my son and his wife.  Aaron is a painter and recently has been applying his hand to sneakers.
Pink Martini is an eclectic group that started circa 1994 in Portland Oregon, and travels the world with a dozen musicians who cross musical genres of classical, jazz and old fashioned pop songs-joining in with various symphonies as they travel. Live in Portland 2006. Check out the soloist and the piano player. They're having way too much fun! Like the music? More about the group-
Paola Pillows begin in my gardens.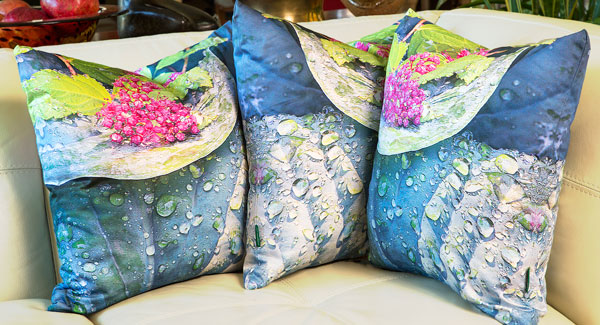 See them here. Buy some here…And yes, we wholesale too.