August is sunflower season in Litchfield. From green, tightfisted buds to a sunny "letting it all hang out" display after numerous bee visitations. At least one of the new Paola Prints this year will be black and white. This is Sun Zebra, a great addition to any living room. She blends well too.
The sunflower is a many splendored flower that shares her story with the world every August in our sunny south side yard.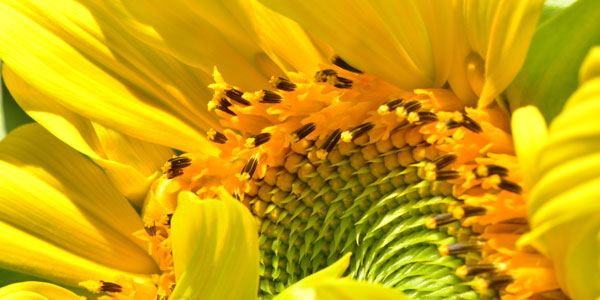 Really easy to grow from seed, you can start them inside, then transplant them outside once they're sturdy. Sunflowers are surprisingly tender as young sprouts.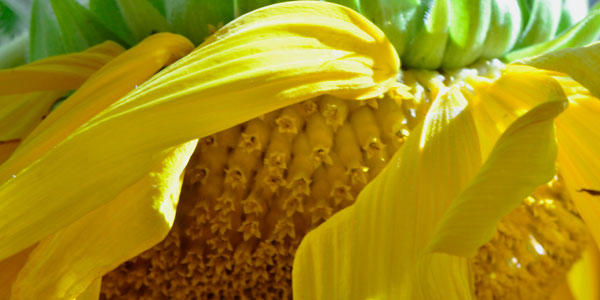 Start many, and stake them as they grow, because you will lose some until the stalks toughen.
I'm still researching and laying out the front garden. Two tools of value include a straight edge spade to cut sod. Sharpening it on both sides is a good idea if you have to cut through a dense surface.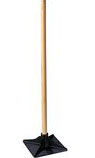 The second is a tool to tamp down the new gravel bed after the sod is removed.
Didn't think about this… Projects taken on as "do it yourself" carry with them an obligation to get the right tools. You can't underestimate this step. Sometimes you can make substitutions. Not sure what the alternative is to a tamper…large feet in heavy boots dancing up and down a garden path? OMG. Just discovered my husband has a tamper tool from another life!
Laying out a path, removing sod and preparing the way for gravel. Make sure to build your path wide enough for a wheelbarrow. I'm going for three feet wide. Base gravel, permeable fabric installed over it to prevent weeds, then pea gravel. Sounds like a plan. This video lays it out. Or, you can read more about it here. http://tinyurl.com/zopqnbk
I'm not interested in using flagstones in the gravel since we're doing garden paths. For a front walk,  using them is functionally sound if people wear high heels to your front door. Ever try walking on gravel in high heels?
Sunny. Great song for a summer day. The backstory caught my eye. Songwriter Bobby Hebb, and his brother Harold were a Nashville song and dance duo starting at the age of three and nine. They were children of William and Ovalia Hebb, both blind musicians. Bobby wrote the song two days after November 22, 1963- the day John Kennedy was shot and the same day his older brother was stabbed to death outside a nightclub. He said he wrote the song due to his preference for a "sunny" disposition over a lousy one following his brother's death. I have always found music to be of great significance in managing life's trials. How often do you remember an event by the music playing at the time it happened?
See our current line of  Paola Pillows here.
Related Images: