There's predictability to the changing seasons that can offer welcome stability for the weary soul. Seasons repeat, temperature and light are pretty consistent in the garden. Artist Helen Frankenthaler, said it best." "Anything that has beauty and provides order (rather than chaos or shock alone), anything resolved in a picture (as in nature) gives pleasure-a sense of rightness, as in being one with nature..an order familiar and new at the same time."
As a gardener I take great comfort in ministering to my plants even if it means just getting them ready for winter. With October, the first day of autumn is behind us. In New England, our first frost could come as early as October 5. Definitely by October 19. How do I know this? You can find your own first frost date here. Check it out.
This weekend we visited the Clark Museum in Williamsport MA and were once again delighted with the paintings and gallery space. It's the second time we've gone in cooler weather so the full effect of the picturesque hill that rises above the museum buildings isn't as magnificent as it must be in spring or summer. Still, the picture was complete- with reflecting pools by the buildings and cows grazing on the hills.
The Clark is an art museum and research institute housing decorative arts, paintings and drawings of European and American artists from the 14th- early 20th century. I assembled a montage of details from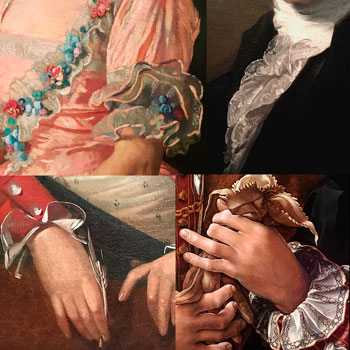 several paintings that feature wonderful details of assorted lace and fabric- of particular interest to me. Their ability to render light and transparency using only a brush loaded with paint is very impressive. The top right image of the lace collar is a detail from one of the artist Gilbert Stuart's very famous portraits of General Washington (that also graces the one -dollar bill). The full size portrait is in the National Gallery of Art in Washington DC.
The Clark's special exhibit called "As in Nature" of oversize landscapes of Helen Frankenthaler, (1928-2011) a leading member of the Abstract Expressionist group, showcasing the progression from representational to abstract art. Helen was a student of the German born American painter Hans Hoffman.
The horrific killings in Las Vegas occurred during a country music concert. I'm not a fan of the performer from that evening so I'm choosing to share an authentic country standard, Johnny Cash. The man lived and sang about the human condition, including its struggles. It's the storytelling of country music that's always appealed to me. As the man says, "Reach out and touch faith-"lyrics from Cash's cover of  Personal Jesus, released in 2002.  Cash's interpretation was as that of a Gospel piece, and how I present it.
The song was written by British songwriter Martin Gore (Depeche Mode co-founder) and associated with a very different twist- including a stylized video of cowboys visiting women in a brothel- released earlier in 1989. Thanks for the update Johnny!
I make pillows that are meant to be held close. Beautiful, all natural, made in the USA. From my garden to your home. Take comfort in nature!