This week I was talking with someone who was against any kind of pest management. She was pleading for recognition that gardening was simply therapeutic. She just enjoyed working in the garden. I get it. I too, am a garden junkie- out there mindlessly engaged, and not too worried about much. Except bugs and their kind.
I'm highly motivated to protect my plants and flowers. Hostas, for example are shade- loving plants that are virtually pest free. ( except for slugs) Their subtle, varied surface textures are a wonderful canvas for sunlight as it plays across them throughout the day. This week, I used some hosta leaves in a large bouquet with giant peonies. What a great, showy display- classically beautiful.
We've had a shortage of rain so far this year, so as I water, I look at plants and notice things that need attention. It's part of the ritual of gardening. Doing one thing and inescapably noticing another. It's quiet time for  travelling through.
It's also the time of year, (a little later then usual), when the lily leaf beetles have already destroyed the lilies and the slugs have suddenly appeared (boldly) on hosta and hydrangea leaves. So, now, I'm focused on a host of pest remedies. In general, the Bonide products are awesome- AND, they really work on slugs. Slug Magic-I totally recommend it.
In the past couple weeks I've been spraying the gravel drive with a vinegar mix to kill weeds. This is my mix of the moment.   Does it work? Sure, but you still have to pull. It's just a lot easier and you're not poisoning your drinking water with Roundup. Just don't let it go as long as I did, and be sure to add more gravel at least every other year. There's no silver bullet for driveway weeds…It takes observation, time and follow-up.
Lily Leaf Beetles repulse me and have totally ruined my enjoyment of hybrid lilies. I now manually remove and squish them. Violent I know, but better a violence that gets exercized  in a garden, right? The beetles first appear in spring after wintering over in the dirt. Look for them when the daffodils come up. It's your first, most effective blast at treatment. More about how they operate.  I've tried several cures, the next one will be Neem oil which comes from the fruits and seeds of an evergreen tree. Basically, I think we're trying to suffocate the bugs. Be careful tho-do not use this product if you're pregnant.
Leaf gall has re-surfaced on my azalea hill- It emerges in April and May as distorted growths on their leaves. It's caused by a wind-borne fungus-exacerbated by lots of rain (which we haven't had) and the azalea bushes getting clumped together. Of course, my bushes are close as they're growing bigger by the year. Spores winter over and don't necessarily show up every year. When they do, you can pick off by hand and put them in a plastic bag. Do not let them drop to the ground or they will spread themselves. In severe cases, weekly applications of neem oil can reduce the number of viable mold spores. I'm still   trying to decide how bad my case is.
Coleman Hawkins was a tenor saxophone player in Kentucky by the age of nine, having cut his teeth on piano and cello. Swing and bebop performances soon followed.
Everybody needs help with garden pests. I try to use things  that work with nature – that don't crush everything in their wake. And I say, just like the Hawk,( Hawkins),"I'll get by as long as I have you." I'm CRAZY about this recording. What do you think?
The great things about peonies and spirea bushes is that they get along great without bugs- except for the helpful ants that aid in their opening. What's not to love?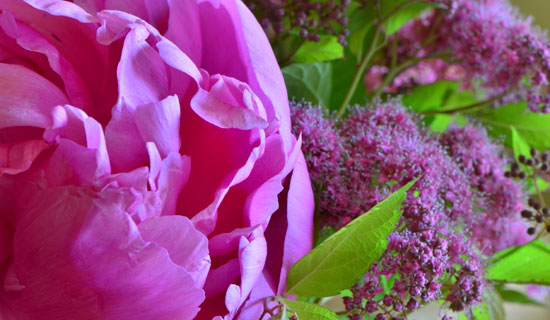 We're working on some banners for retail along with our pillows and fabric for home decor. This is a tree peony in all its glory. Flowers always help me get by.  Check out some hosta pillows– they will lift your spirits and remind you of summer all year long.