Is coming. Summer is marching ahead. The foliage is overly green and heavy. The blue hydrangeas are incredibly beautiful –filled out and heavy hanging, colors changing by the day. Transient blooms are fading as vines take over the garden.
I'm crazy about early spring but also greatly enamored of this time when life becomes more complicated. Late summer is that time for the natural world: what's going to die forever; what's going to die back and re-emerge next season. Process.
I enjoy photography because the camera lens immediately stops the action outside of its range, or what's too close to shoot. Limitations are good because they force you to make more deliberate choices. Later when I download photos onto the computer I continue the process of cutting and modifying what was captured to suit a new goal- a three dimensional work of art that presents a whole new thought. Not a copy, not a photo, a new creation. And happily, it's one you can hold onto and enjoy every day. Like Rosa.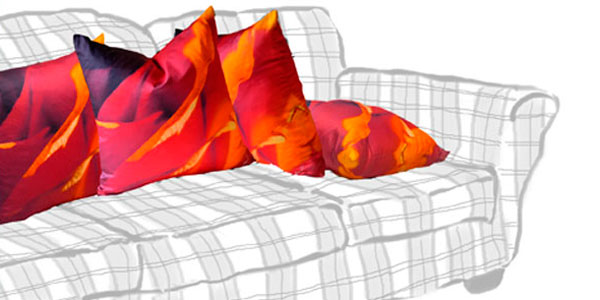 Here's an interesting look at late summer in Nantucket. It's not pretty so much as an opportunity for reflection- the only sound is nature itself on the island. It feels long- so, wait till evening or when you can make time for it with a glass of wine. Lovely. Nantucket Garden by Thomas Piper.
Namaste.
You can read more about my Paola Pillow- Rosa here. (Pls. scroll down)
Related Images: