My daughter is getting married in June. We just found The Dress. After much hand wringing and tooth pulling, it appeared effortlessly- as in a dream. (I'm not kidding- it was the stuff of reality TV) The dress is hiding in my closet shielded from all eyes until the fitting happens. Well, almost…see the faint print in the couch behind the Paola's Palma pillows…? The entire dress bodice is encrusted with seed pearls and sparkles- in true princess style.
The shower date has been set and three registries started. Getting a little nervous as I was under the impression I was throwing a bridal shower but we will now be hosting a Jack & Jill party. Much homework to be done!
I was looking through home décor trends for 2017 and stumbled across this one directed at "twenty somethings." Although a little short on detail, it has some good ideas. Certain ones hold true for anyone improving a living space. I like the idea of buying things that are multi-purpose – like a couch turned into a sleep area for overnight guests. We traveled to an estate/auction house in Bridgeport last week. A great place to spend a couple hours on a cold winter's day. Black Rock Galleries in Bridgeport and online.
Among other things, we discovered an interesting room divider.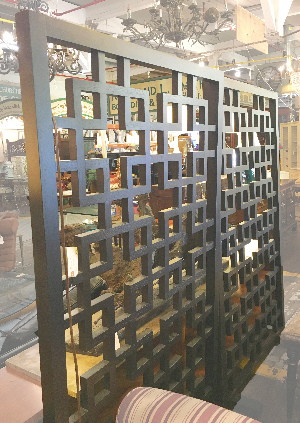 When we re-did our own house, we took down a lot of walls, to give us the freedom to move things around depending the time of year, or particular events. We like it a lot but have a reached a point where we recognize the need to create a specific space as a sitting/conversation area without putting up a wall.
Dividers are challenging from a design perspective. I haven't seen a lot that aren't either style-limiting, flimsy by design, or too solid- leading again to a loss of openness that we don't want. What do you think of this? It's actually Asian, made of wood and quite heavy, but an open design that brings both sides together even as it divides. And, it's made in two pieces which adds versatility.  One thing I've also learned. Give yourself time. Live with what you have first, before you buy solutions that may not really be a fit.
Here is another link on 2017 trends for home décor. As a creative soul I like the idea of breaking rules-how else are you going to discover what you really love? One idea that stuck my fancy was the concept of "mixing it up." Across different cultures and history. Old and new sometimes work just because. As an example. Modern bamboo flooring from Cali Bamboo. We had it installed throughout the upper level even into the kitchen. It's harder than any wood flooring I've seen. Go for their hardest finish too-it's worth it. (Their customer service is also great).
More 2017 home decor ideas. Maybe you'll see something that catches your fancy. Green remains popular in home decor. I'm also crazy about it but you need to figure the right balance. We're going with steel grey on the outside metal railings and gates because it blends well into the landscape.  You can find lots of different colors to apply but be careful not to upstage your flowers and plants!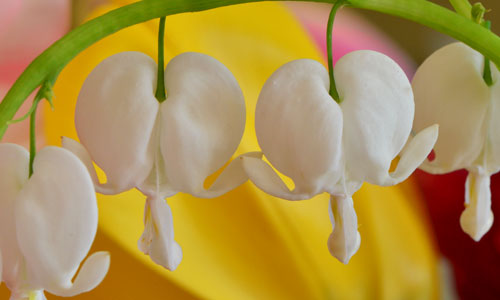 Have I told you lately that I love you?  A song performed in 1989 by Sir Van Morrison, a self described, blue-eyed soul singer from Belfast. A diminutive powerhouse whose songs are forever young. (Even though his videos are sometimes just a little corny!)
Palma is a wonderful green addition to any couch or living space. You can find Palma and more on Etsy at PaolaStudio.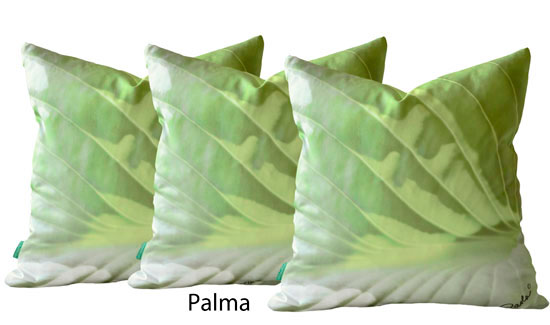 It's like having a living garden inside all winter long.