I read an article in the New York Times recently that chronicles a Japanese artist who has over a lifetime, worked painstakingly to create beautiful fabric using indigo dyes and the ancient process of katazome- the traditional craft of stencil-printed indigo-dyed fabric for kimonos. His work is gorgeous and meticulously fashioned.
In the end, the story felt sad. It doesn't appear the artist has really found a way forward other than just doing the work. He doesn't think his son will continue his passion- (which is pretty typical in my experience).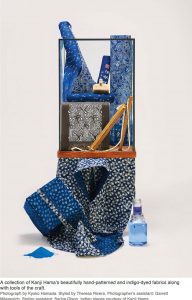 I want more to my art than that. I enjoy connecting it with people today and going forward. To do that, in addition to creating continually, you have to be looking for ways to make your work relevant in meeting other people's desires. It's challenging. For some artists it's overwhelming.
On the other end of the spectrum I also saw an article on flannel production in the USA. Against all odds it would seem that American Giant has managed to pull off making flannel stateside. Start to finish for the first time in decades. Most of large scale textile is long gone overseas. The difficult conclusion to this story is that like most highly cash intensive projects, the price to buy homegrown flannel will be higher than many can afford. So what's the take away? I'm not sure. Money talks? Is this venture viable long term or is it just a wealthy person's herculean endeavor?
Successful artisan craft businesses have found a way to keep design/production close, until there's a financially viable way to grow without compromising quality, for a price that's acceptable. Americans are schooled in the art of the deal- more for less? It's a killer for an artist. But we're all complicit. Today, Paola scarves are made to order. It keeps my relationship with the end user close. I enjoy that. Hope you love the work- I do!
This artist will be at Hopkins Vineyard in Washington, CT this Saturday, December 8, from 11-5 for their annual Chill N' Shop event. Sounds like fun- stop in if you're in the neighborhood. I've made some scarves for the fair so you can buy one of the scarves below and still have it for Christmas- text me and I'll set it aside. All other orders placed today will be delivered in January.
Isn't New Year's a great time to get a gift?
Paola Pillows are flying out. All cotton sateen and sewed to last. Washable and gorgeous. What a concept! Paola Pillows are in stock too. Ten designs, and ready to travel. You can now buy covers – direct only. What's your pleasure? Email, or text me at 203-206-5819.
Eartha Kitt (born Eartha Mae Keith, January 17, 1927 – December 25, 2008) was an American singer, actress, dancer and activist. Her Christmas song, "Santa Baby "was a US Top 10 hit. Always a favorite of mine. Just a little bit politically incorrect for 2018-Slip a sable under the tree for me too!