---
It's time to head back to Connecticut.
OMG. It's stopped raining. As we descended into Seattle Sunday, you could see the rain on the windows. Today is the first day you can begin to see light through a cloudy sky.
What they say about Seattle? It's true. To be fair, I'm told that this was unusual, some blaming a complete lack of rain last summer. This is the view from my brother's house- an awesome look at Mt. Ranier and the Space Needle that light up the night sky. This morning of course, you can't see for clouds so I drew in Mt. Ranier. I got a peek at the snow covered base this morning but that was all. Going to have to return.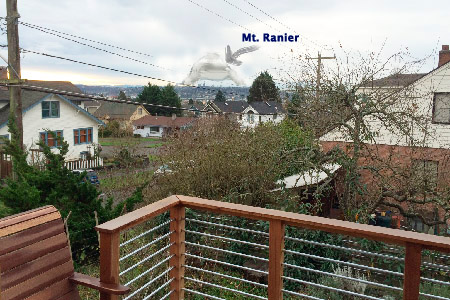 We spent a morning at the Seattle Design Center touring some showrooms with pillows. The jury is out- but I came away remembering how much I appreciate the kindness of others. Especially when you're selling. DeAnna and MJ at Leflar Ltd were awesome. I always learn something new to use against the next effort. Home decor showrooms are a testament to the enormous investment businesses like this have to make. Each one is over 15,000 square feet full of all sorts of related merchandise. Will this be one new home for Paola Pillows? TBD.
We stayed a couple days with family. Really fun. I was so impressed by my niece and her husband after watching them navigate the evening with their new toddler. Don't envy them but I admire their work.
Seattle is so much more funky than New England. Ordinary, utilitarian things like bike racks become brightly colored dragons rising up out of the pavement. And, if you're a coffee shop fanatic as I am, they're all over and MOST are independents. Sorry, Dunkin fans, we like it this way!
The Alabama Shakes recently released a new album: Sound & Color.  In light of the colors in the Pacific Northwest today, I'm liking the title. The video looks a little like a throwback to Space Odyssey. What do you think? It's a bit different from the raucous sound  I've heard before. Don't Wanna Fight. Another cut- it's great to hear  a band evolve.
You can still buy Paola Pillows in time for the holidays!