Winter surface design offers the same color combinations as in warm weather. Warm and cool. The tone however, is entirely different. It's important to note that all of my design inspiration begins in the garden which changes with the time of day, season and light. Even as I look forward to working in the garden and photographing its fresh spring colors, the cold weather continues to interest with its intense variations of warm and cool colors. I've been working with some dried roses to create my last winter scarf- a tribute to my sister Laura. Orange goes to earthy rust, green becomes olive or teal and the light remains low.
Sometimes, I think earth tones are easier colors to integrate with clothing and skin. A friend asked me if I was going to add winter weight fabrics to my scarf products. At the moment, the translucent allure of chiffon and sunlight are just too seductive to consider heavier fabrics. Maybe curtains?
I discovered an awesome little shop called Soulbury in Woodbury CT that has a wonderful resource called "Forever Orchids" featuring a collection of rescue orchids. You'll also enjoy a stroll through the store featuring many local artisans -including its staff.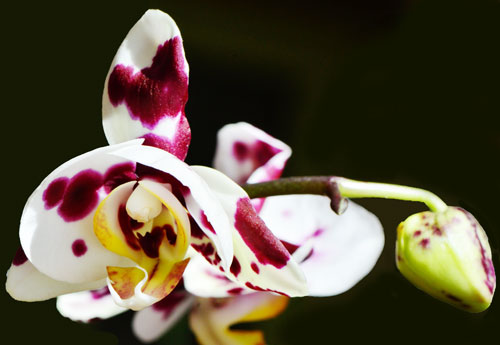 What a market- rescuing orchids must be a booming business. How many times would you gladly have handed off an orchid after bloom that looks sadder by the day? Forget even hoping for a new flower. Some tips on orchid care here.
It's still cold enough in Connecticut to be snuggling up to soft down and feather pillows. I'm crazy about Woodland made from photos of autumn hosta leaves.
The Lao Tizer Quartet will be playing at the Clark Museum in Williamstown MA-April 5. They sound great. Nominated for Jazz Group of the Year. We hope to go. "To Touch the Sky"