I love this photo- the colors are so great together- all  green and red. Doesn't it look like the coat is rising up inside the green arch?
This week I've been working on a new spring pillow. And I mean working.
The green background is a photo I took of a young sedum plant. I like sedum almost more before they mature and get leggy and unable to stand up on their own- reminds me of a certain life stage called adolescence. The green color makes me think of early spring- a minty green that's soft with a furry surface, like the tender succulent it is.
Working with the green colors was very tricky -I wound up re-doing almost the entire shot. You can't just go in with a brush to change a photo-because you have to blend into continuous color. I kept thinking I was finished; I'd export my file and discover another spot that needed attention. Finally, I realized it was too dark in the room to get good color anyway and I put it away till the next day. The file will go to press for the second time next week to see how the colors react with the fabric.
The image I placed on top of the sedum photo was a coat I made a few years ago. It's my "coat of many colors"- full length and all cotton. Yes, I've been hung up on colors and flowers for longer than I can remember. Hand sewing fabric applique is very time consuming but I always enjoyed playing with flat, intense colors and different textures. Not as forgiving as acrylic paints or Photoshop but the simplicity of working with solid colors is much appreciated at times. It reminds me of the bright colored zinnias we used to raise at home.
What's not to like?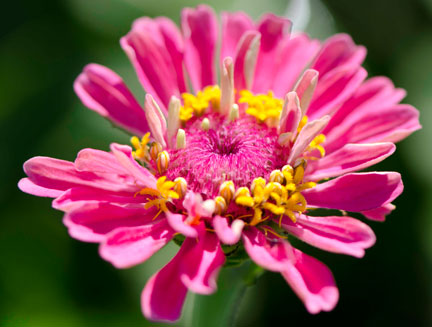 I had to pick a Van Morrison tune for tonight because St. Patrick's Day is coming! One of my old favorites. Some great visuals in this video- may I suggest an uber large flat screen and a glass of Cabernet?http://youtu.be/6lFxGBB4UGU
What's your favorite Spring color? Green goes with every season-https://paolaprints.com/paola-pillows/