If you're following us, you'll recognize the path we've been on the last several weeks- in search of a fence to enclose the garden- and finally a wrought iron fence. I love it! Found it in Albany at Executive Antiques. They're closing their doors, so you have to hurry if you want to get some great gates for yourself!
The work on completing the hard scape outside our house continues. We tend to gravitate toward things that require high maintenance. We concluded that rather then becoming overwrought with material maintenance, a wrought iron fence would be just the ticket.
Wrought iron is an metal alloy mass that's tough, malleable, corrosion resistant and easily welded. Like women. (Except for that last part) Historically, demand for wrought iron reached its peak in the 1860s due to extensive rail and maritime activities. It went into decline with the improvement of steel, replaced by an inexpensive but serviceable product known as mild steel-cheaper and easy to form. Interesting info on the use of wrought iron in history.
We were told our find is English wrought iron…our blacksmith expert, Bob Kluge, will confirm that in a few weeks, right Bob?
So, we love incorporating old finds, and already our house is a blend of many cultures.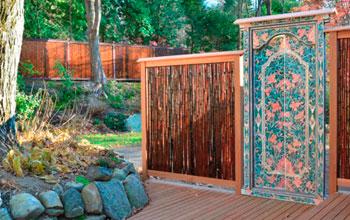 The English iron will finish out the wall we began with the Indonesian door, and bamboo fencing.
I came across this site which has some great old stones for gardener and homeowners. New England Garden Ornaments in Sudbury, Massachusetts claims to be the largest garden ornaments resource in the northeast. A spring/summer weekend visit perhaps. Our new garden is heavily shaded so colors might be more easily introduced in pots.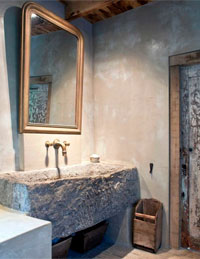 The Sartorial Garden– their blog has some interesting info about the many uses for stone in the garden.
If you're tired of a grey winter's palette yet, stay in touch with natural beauty in season at the New York Botanical Garden.
Bette Midler and Wynonna Judd singing – The Rose. Great together.
Rosa is one of my favorite pillows. You can buy it here on Etsy at PaolaStudio.
Save
Save
Save
Save
Save
Save
Save
Save
Save
Save
Save