Did you know that azaleas and rhododendron are in the same family? Both members of the genus Rhododendron. My azaleas usually start blooming first here in CT, followed by the rhododendrons.
Evergreen vs. Deciduous Azaleas
Most azaleas are evergreen and offer good winter landscape interest. The deciduous azalea -typically orange or yellow, is taller and drops its leaves for winter. I think they're adorably unusual in a landscape. However, they're adorably unusual in a landscape.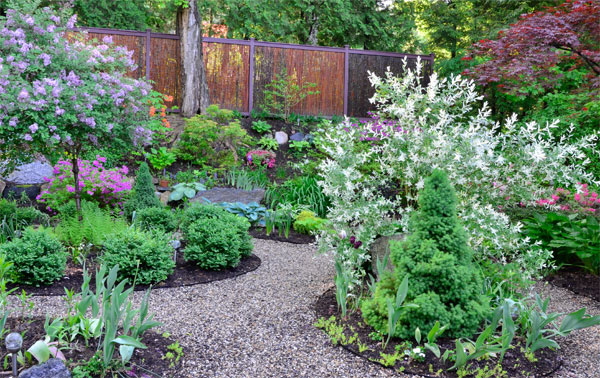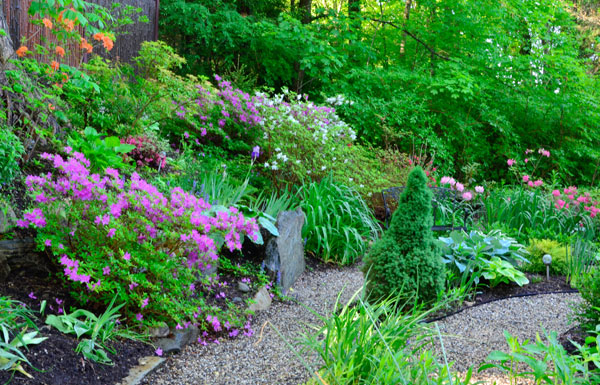 This year was not a good one for our azaleas tho. Large sections of the plants had what looked like tiny brown, dry flower buds that never opened. Azaleas are generally hardy and require little fertilizer-save compost. You can burn them however so you don't want to overdo fertilizer as the roots are very shallow. Weather too, can often be at fault. In CT we had funky cold weather in early Spring with companion bud damage, followed by a lot of rain.
Poor Flowering
They're many reasons for bud loss including overdoing nutrition. Who would do that? I'm pretty sure I have. Azaleas have shallow roots and are susceptible to damage caused by drought or over fertilizing. Too much moisture can also trigger a host of fungal problems.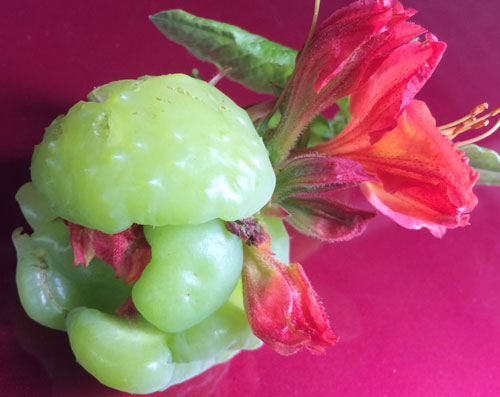 Gall Treatment
Cut each gall off carefully, bag and throw it out. Clean your hands and clippers before using them elsewhere. This year the worst falls are from an old, deciduous azalea tree. Once a plant has this disease over 25% it has to be aggressively treated with a systemic fungicide. This tree is up for professional treatment this year as it's gotten progressively worse the last few years. The fungi can winter over, living in the plant and surrounding soil.
Fortunately I've seen only two affected plants this year. See a full range of azaleas issues and solutions.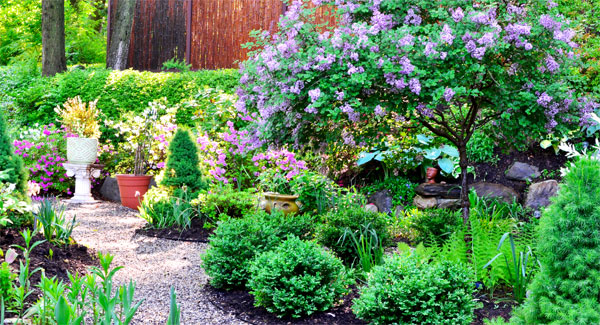 Spring and summer bring excessive and exciting time outdoors working on garden things. Which is code for… I've been struggling to get to scarf design and sewing. Still.. My new scarf is just waiting on its final hem and press. It's an early spring motif. What do you think? Scarves now in stock..ready to ship.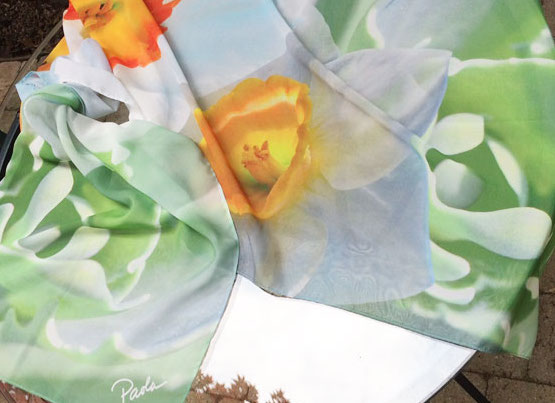 Suzanne Vega, singer /songwriter was born in Santa Monica but grew up in Spanish Harlem and the Upper West Side of NYC. At age 11, she picked up a guitar, and began writing songs as a teenager. She first studied dance at the School of the Performing Arts and then attended Barnard College majoring in English Literature. I enjoyed this song, Caramel- And the video almost as much. Her music and lyrics have wonderful staying power.
Suzanne became popular for her pop hit called Luka from the 1980s about child abuse and another song called Tom's Diner. She performs here with Gerry Leonard, her brilliant bass player/producer, who's played extensively with David Bowie.