I don't know about you, but after my delight at the start of azalea season, I was terribly discouraged by their poor showing. A friend told me about this site and when I reached out, I was helped through some ideas for garden improvement by an awesome horticulturalist, Carol from UConn Home and Garden Education Center. Apparently, lots of people struggled with this problem this year. I strongly suggest you ask your questions of UConn. Help is not far away if you're ready to do the work.
Real life takes time
Did you ever watch a show on TV and wish you could have somebody write out all the tedious parts of your life? Real life is never neat or predictable. But sometimes, it can be fulfilling. I inherited a miniature lilac tree from the previous homeowner, and aside from re-locating it to the center of the garden, I've simply enjoyed watching it grow and bloom. This year however, was the time to discipline its ruffled top that had become heavy and off balance as the little tree stretched toward the sun, even as it bloomed its heart out.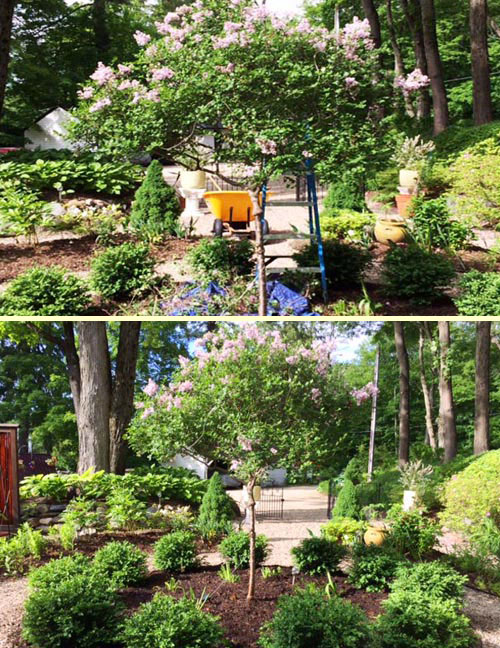 Water feature
This year was the first try at getting my toes wet with a water feature-tiny as it may be. After paying large sums of money to drain water from our garden, I was finally seduced by some adorable plants and helpful salespeople at Bosco's Garden Center in Simsbury. I just had to try. Maybe next year I'll get a bird bath and fill it with more water plants.
What's not to like about water as summer approaches? I was recently captivated by this 3D video of the creation of Frank Lloyd Wright's house called Fallingwater. You can visit the real place in Pennsylvania. Just as magical.
Joseph- Twins Meegan and Allison Closner and their older sister, Natalie Closner from Portland, Oregon. White Flag. More about our girls here.
Paola Prints scarves-in stock
We've put in some inventory for spring/summer Fairs, meaning you have have YOUR within one week of order. For a gift or yourself! Or both…